Comment je connais Tampopo ? Et bien, il fait parti de ces premiers amis, jamais croisés physiquement, mais réels, rencontrés au détour du net d'avant, celui des années 90. On s'est reconnu par la musique electro-industrielle, et déjà son graphisme nippo-trash m'avais interpellé. Je n'étais alors pas encore tombé amoureux de l'Asie, mais mon intuition devait certainement déjà onduler dans mes connections cérébrales.
Aujourd'hui il me fait l'honneur de nous rejoindre dans ce projet un peu fou, et nous présente sa collection de Mon. Le Mon est la hiéraldique japonaise, chaque famille pouvant ainsi se reconnaitre sur les champs de bataille grâce à ce symbole. 
En plus dans Tampopo il y a POP. La voici donc.
Petite nouveauté, ce soir j'ai invité Karl Bult aux platines pour faire honneur à l'ami Tampopo.
Bonne visite, et prends soin de toi.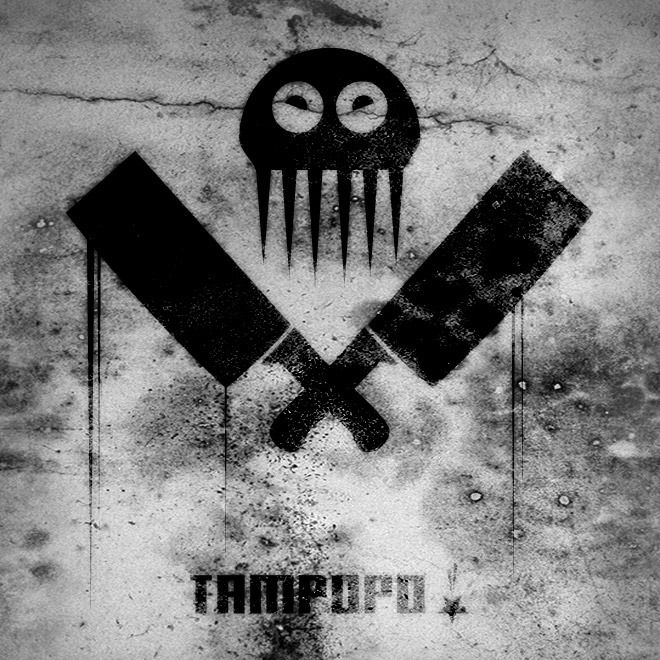 Tampopo
Toulouse/Bangkok – 1964 France
Tampopo is a transmedia artist based in Toulouse, South of France. Graphical designer, painter, scluptor and food explorer under heavy Asian influences, he is still very active within the electronic musics world, starting his musical adventures, in the mid 90s, when DJ Hell's Gigolo Records published his debut tracks. Tampopo is actually working on a new series of paintings and illustrations and will soon publish a new audio project inspired by the Japanese video game Dark Souls.
Tampopo est un artiste transmédia basé à Toulouse, France. Graphiste, peintre, sculpteur et explorateur gastronomique sous influence asiatique, il est aussi toujours actif dans le milieu des musiques électroniques après un passage remarqué au sein de l'écurie Gigolo Records du DJ allemand Hell au milieu des années 90. Il travaille actuellement sur une nouvelle série de peintures et d'illustrations et publiera prochainement une nouvelle œuvre sonore de 40 minutes composée en hommage au jeu vidéo japonais Dark Souls.
All you can eat
« Do not eat candy that has dropped on the floor. It now belongs to the ghost. » (Thai proverb)
What you think of this exhibition ?